Hey friends!

Just wanted to send you a quick update:
I've been spending a good bit of  time in our studio working on new music, I hope to have something to share with you by May - lots of songs to sift through, to refine, to demo and record. Also beginning work on a video for Is It Love with Jesse and German Disla directing, stay tuned and please continue spreading the word about FEEL THE ECHOES in the mean time! 
I've also got a great new promo photo! Friend and Photographer James Roellig met me in the Foundation Room at the House of Blues in Boston for a show he was shooting (Switchfoot) and snapped a few photos while we were getting dinner. (see my favorite below). If you're not familiar with James, he shot the live photos of us performing in Stafford Springs, CT, you can see those HERE and see more of his portfolio HERE.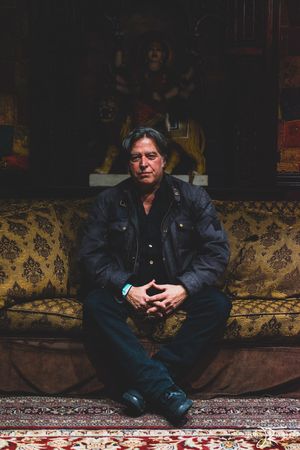 Take care of one another,   
Dan Russell
PS: Jesse and I are headed to Fort Lauderdale to experience BRMC at the Culture Room.  Looking forward to spreading Love with Robert, Peter and Leah. Here's a snapshot of me warming up Robert Been up on David Letterman's set, a fun memory in honor of this trip and #throwbackthursday.